CAIRO city news.
Sufis perform a traditional dance in Cairo as they celebrate the birth of Imam Hussein, grandson of the Prophet Mohammed
November 24, 2017 - 18:20 GMT
A handout picture provided by the Lebanese photo agency Dalati and Nohra on November 21, 2017 shows Lebanese Prime Minister Saad Hariri (R) being greeted by Egyptian President Abdel Fattah al-Sisi (L) upon his arrival in Cairo
November 21, 2017 - 22:08 GMT
Saudi Arabia's Foreign Minister Adel al-Jubeir, center right, and Egyptian Foreign Minister Sameh Shoukry, left, meet with foreign ministers at the Arab League headquarters in Cairo, Egypt, Sunday, Nov. 19, 2017. The foreign ministers of Saudi Arabia, Egypt, the United Arab Emirates and Bahrain are meeting in Cairo to discuss a draft Saudi declaration on countering Iranian influence in Arab affairs. The four Arab nations have been boycotting the Gulf Arab nation of Qatar since June in part over its warm ties with Iran. (AP Photo/Nariman El-Mofty)
November 19, 2017 - 18:28 GMT
FILE - In this April 21, 2015 file photo, Egyptian fishermen row on the Nile River in Cairo, Egypt. Sherine Abdel-Wahab, a famous Arab singer widely known by her first name, has been banned from performing in her native Egypt after advising against drinking from the Nile River. A video clip of a recent concert shows Sherine telling a fan: "You are better off drinking Evian," a reference to a French brand of mineral water. (AP Photo/Hassan Ammar, File)
November 16, 2017 - 00:58 GMT
An Ancient Egyptian artefact, gold sheet depicting Tutankhamun smites a Nubian captive in the presence of Queen Ankhesenamun, displayed in a glass case during the opening of the exhibition entitled Tutankhamun's Unseen Treasures marking the 115th anniversary of the Egyptian museum in Cairo, Egypt, Wednesday, Nov. 15, 2017. Egypt has displayed for the first time some previously unseen artefacts of the Pharaoh, famous for his tomb full of golden treasures. (AP Photo/Nariman El-Mofty)
November 15, 2017 - 21:46 GMT
People carry the coffin, covered with the an Egyptian flag, of police captain Ahmed Fayez who was killed in a gun battle in al-Wahat al-Bahriya area in Giza province, about 135 kilometers (84 miles) southwest of Cairo, during his funeral at Al-Hosary mosque, in Cairo, Egypt, Saturday, Oct. 21, 2017. At least 54 policemen, including 20 officers and 34 conscripts, were killed when a raid on a militant hideout southwest of Cairo escalated into an all-out firefight, authorities said Saturday, in one of the single deadliest attacks by militants against Egyptian security forces in recent years. (AP Photo/Alaa Elkassas)
October 21, 2017 - 19:15 GMT
Senior Fatah official Azzam al-Ahmad, center right, and Hamas' representative, Saleh al-Arouri, center left, sign a reconciliation agreement in Cairo, Egypt, Thursday.
October 12, 2017 - 17:17 GMT
FILE - In this Oct. 27, 2009 file photo, Egyptian Muslim Brotherhood leader, Supreme Guide Mohammed Mahdi Akef talks during a press conference in Cairo, Egypt. Former leader of Egypt's outlawed Muslim Brotherhood group has died in hospital while on trial. The 89-year-old Akef suffered from health complications and was hospitalized in Cairo before his death on Friday, Sept. 22, 2017. (AP Photo/Nasser Nouri, File)
September 22, 2017 - 21:47 GMT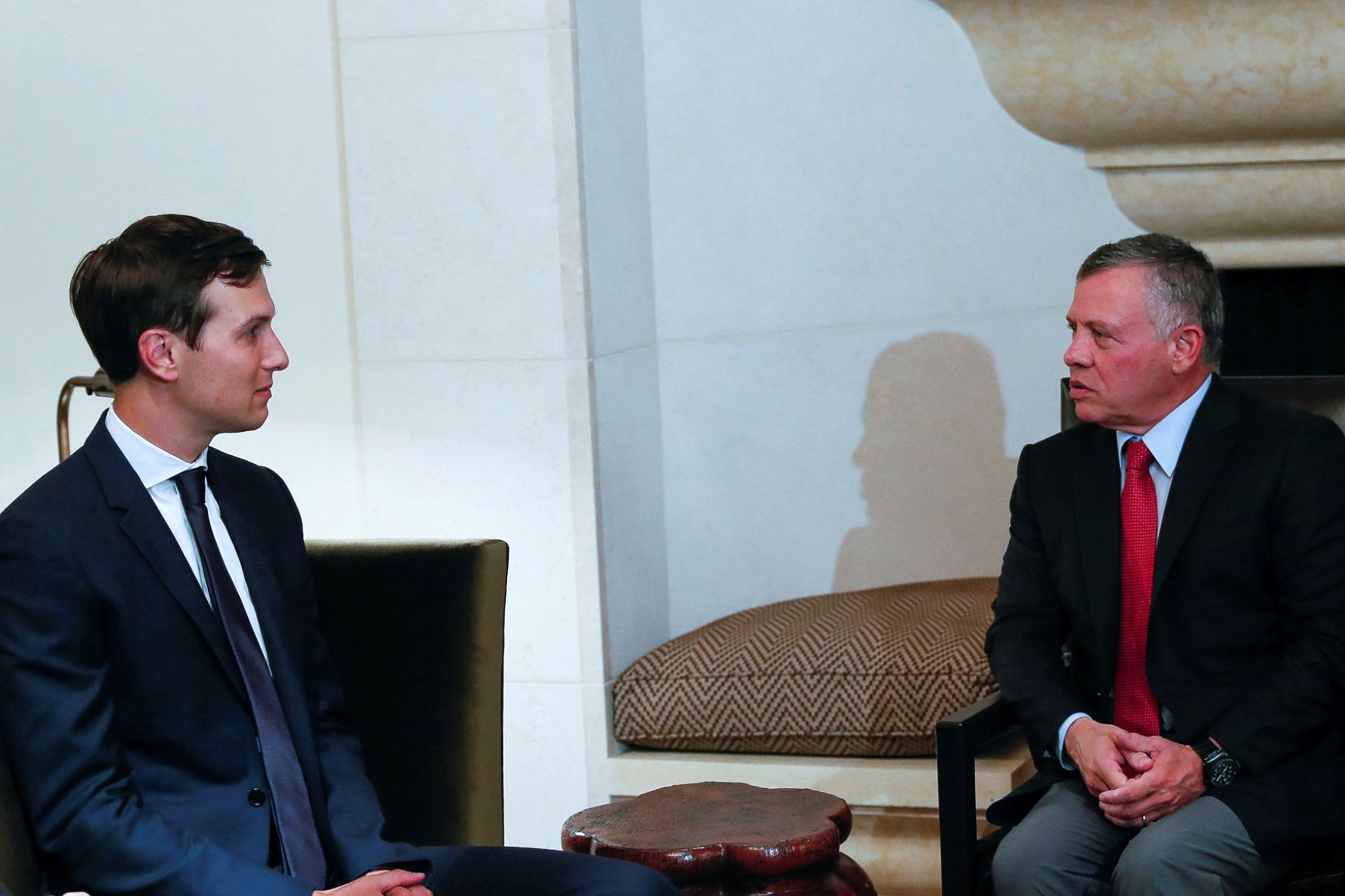 King Abdullah II, right, receives White House adviser, Jared Kushner, Tuesday, Aug. 22, 2017, in Amman, Jordan. Kushner has touched down in Cairo, the latest stop on his Mideast trip to discuss the possibility of resuming the Israeli-Palestinian peace process. Egypt's Foreign Ministry says Kushner, who is also the son-in-law of President Donald Trump, will meet Egyptian officials, including Foreign Minister Sameh Shourky.
August 24, 2017 - 03:59 GMT
In this photo provided by Egypt's state news agency, MENA, Egypt's President Abdel-Fattah el-Sissi, right, poses for a photo with White House adviser Jared Kushner, in Cairo, Egypt, Wednesday, Aug. 23, 2017. El-Sissi and Egypt's foreign minister have met with Kushner just hours after the Trump administration cut or delayed hundreds of millions of dollars in aid to Cairo over human rights concerns. Kushner, who is also President Donald Trump's son-in-law, was in Cairo as part of a Middle East tour aimed at exploring ways to revive Israeli-Palestinian peace talks, which last collapsed in 2014. (MENA via AP)
August 24, 2017 - 02:22 GMT