CAIRO city news.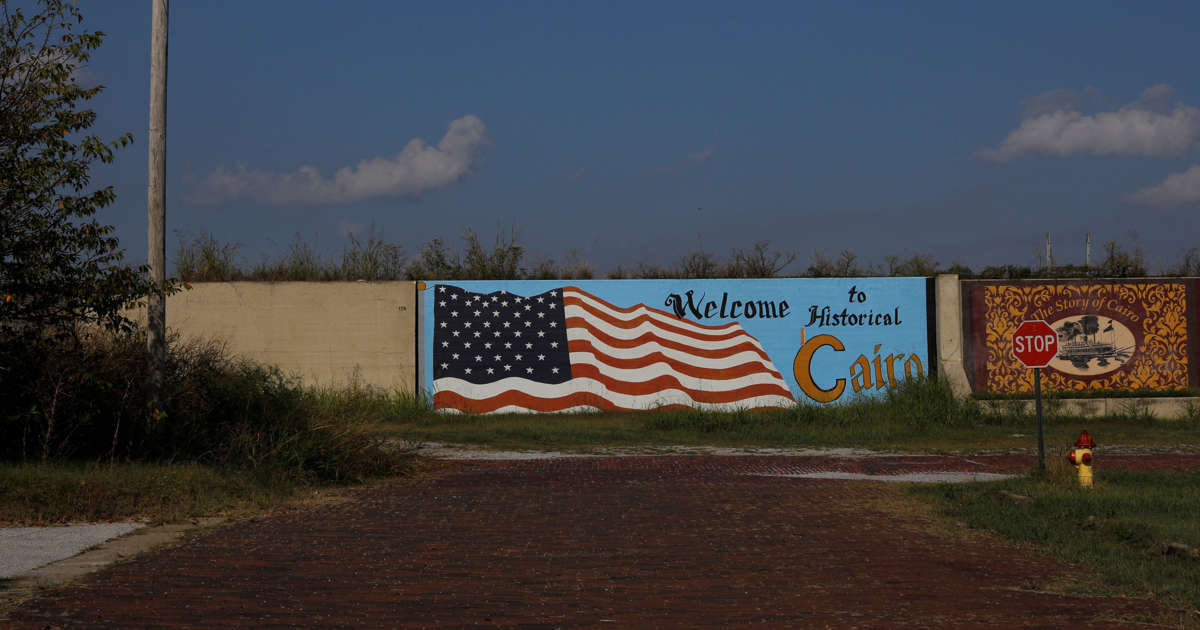 A sign on the flood wall along the Ohio River welcomes visitors to Cairo, Illinois, U.S., September 19, 2017.
April 29, 2018 - 20:38 GMT
In this image made from a video provided by Almanassa people watch as smoke rises from a fire at the new Grand Egyptian Museum, located near the famed pyramids of Giza just outside Cairo. The museum covers about 490,000 square meters (586,120 square yards) and will house some of Egypt's most unique and precious artifacts, including many belonging to the famed boy King Tutankhamun. Egyptian officials said that the fire caused no significant damage or injuries. (Almanassa via AP)
April 29, 2018 - 16:24 GMT
Family photos showing Stephon Clark, his fiancee, Selena Manni, and sons Aiden, 3, and Cairo, 1.
April 10, 2018 - 18:01 GMT
Egyptian President Abdel Fattah al-Sisi casts his vote during the presidential election in Cairo
April 02, 2018 - 14:14 GMT
Former NBA player Matt Barnes holds Cairo, one of the sons of police shooting victim Stephon Clark, as he speaks at a rally aimed at ensuring Clark's memory and calling for police reform, Saturday, March 31, 2018, in Sacramento, Calif. The gathering comes nearly two weeks after Clark, who was unarmed, was shot and killed by two Sacramento police officers. Barnes, a Sacramento native, who organized the event, announced he was starting a college scholarship fund for Clark's two sons and the children of parents killed by police nationwide. At left, the Rev. Shane Harris holds Clark's other son, Aiden. (AP Photo/Rich Pedroncelli)
April 01, 2018 - 18:57 GMT
Fatma Mounir, a supporter of President Abdel-Fattah el-Sissi, wears a T-shirt with his picture as she chants national songs in front of a polling station during the first day of voting, in Cairo, Egypt, Monday, March 26, 2018. Polls opened on Monday in Egypt's presidential election with the outcome — a second, four-year term for President Abdel-Fattah el-Sissi — a foregone conclusion, in what is seen by critics as a signal of the country's return to the authoritarian rule that prevailed since the 1950s. (AP Photo/Amr Nabil)
March 27, 2018 - 09:42 GMT
A woman casts her vote during the first day of the presidential election at a polling station in Cairo, Egypt, Monday, March 26, 2018. Egyptians head to the polls on Monday but the presidential election this time is not about who wins — that was settled long ago — but about how many people bother to cast ballots. Arabic reads, "choose one candidate, Abdel-Fattah el-Sissi, Moussa Mustafa Moussa". (AP Photo/Amr Nabil)
March 27, 2018 - 07:11 GMT
People chat and smoke traditional water pipes under an election campaign banner for Egyptian President Abdel-Fattah el-Sissi, with Arabic that reads, "for the sake of the nation security", in Cairo, Egypt, Saturday, March 24, 2018. President Abdel-Fattah el-Sissi, the general-turned-president, will stand for re-election next week against Moussa, a little-known politician who has made no effort to challenge him. (AP Photo/Amr Nabil)
March 25, 2018 - 18:00 GMT
Ahmed Gaddaf al-Dam, cousin of Libya's former president Moammar Gadhafi, speaks while the news on his TV in Cairo shows former French President Nicolas Sarkozy in the background on Thursday.
March 22, 2018 - 19:11 GMT
Saudi Arabia's Crown Prince Mohammed bin Salman gestures during the graduation ceremony of the 93rd batch of the cadets of King Faisal Air Academy, in Riyadh
March 05, 2018 - 12:15 GMT