CAIRO city news.
FILE PHOTO: Egypt's deposed president Mohamed Mursi greets his lawyers and people from behind bars at a court wearing the red uniform of a prisoner sentenced to death, during his court appearance with Muslim Brotherhood members on the outskirts of Cairo
June 17, 2019 - 16:13 GMT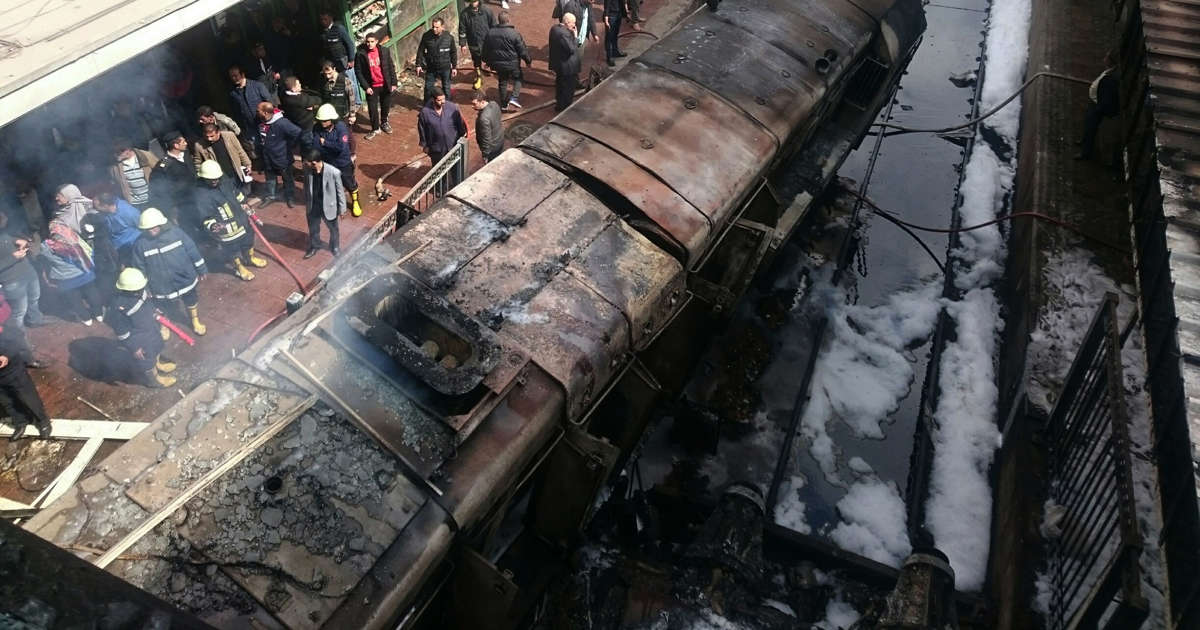 Rescue workers stand next to a Burnt out wagons sit on the railway tracks after a fire caused deaths and injuries at the main train station in Cairo, on Feb. 27, 2019.
February 27, 2019 - 13:05 GMT
U.S. Secretary of State Mike Pompeo, left, meets with Egyptian President Abdel-Fattah el-Sissi in Cairo, Thursday, Jan. 10, 2019. Pompeo is in Cairo for talks with Egyptian leaders as he continues a nine-nation Middle East tour aimed at reassuring America's Arab partners that the Trump administration is not walking away from the region. (Andrew Caballero-Reynolds/Pool Photo via AP)
January 10, 2019 - 19:31 GMT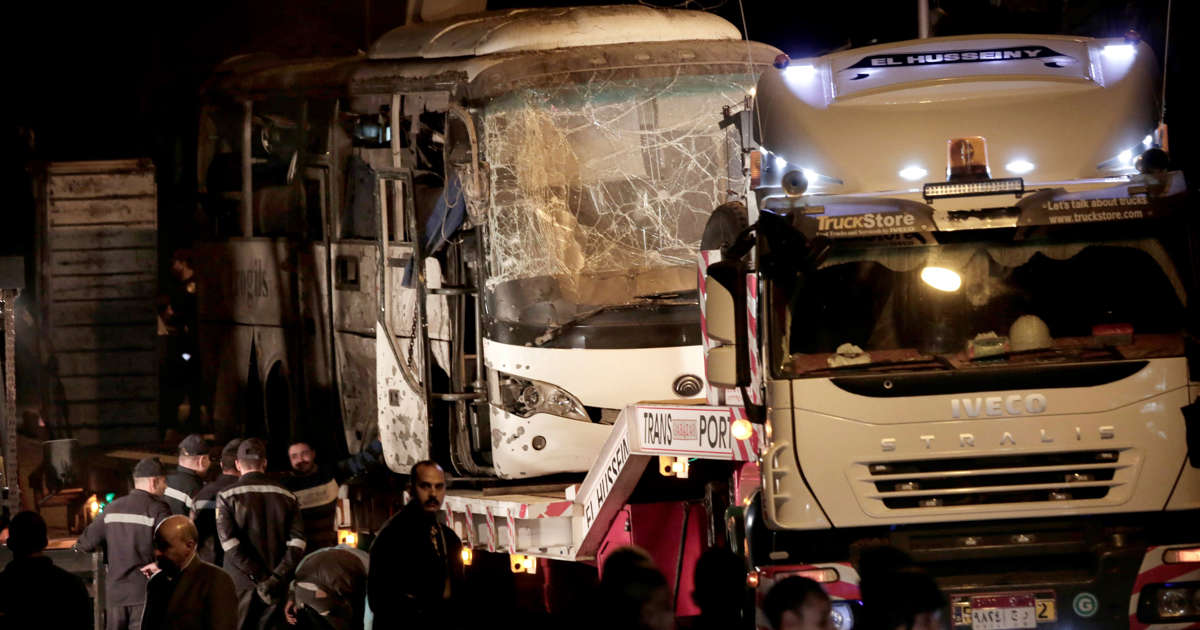 Security forces stand near a tourist bus after a roadside bomb in an area near the Giza Pyramids in Cairo, Egypt, Friday, Dec. 28, 2018.
December 28, 2018 - 23:13 GMT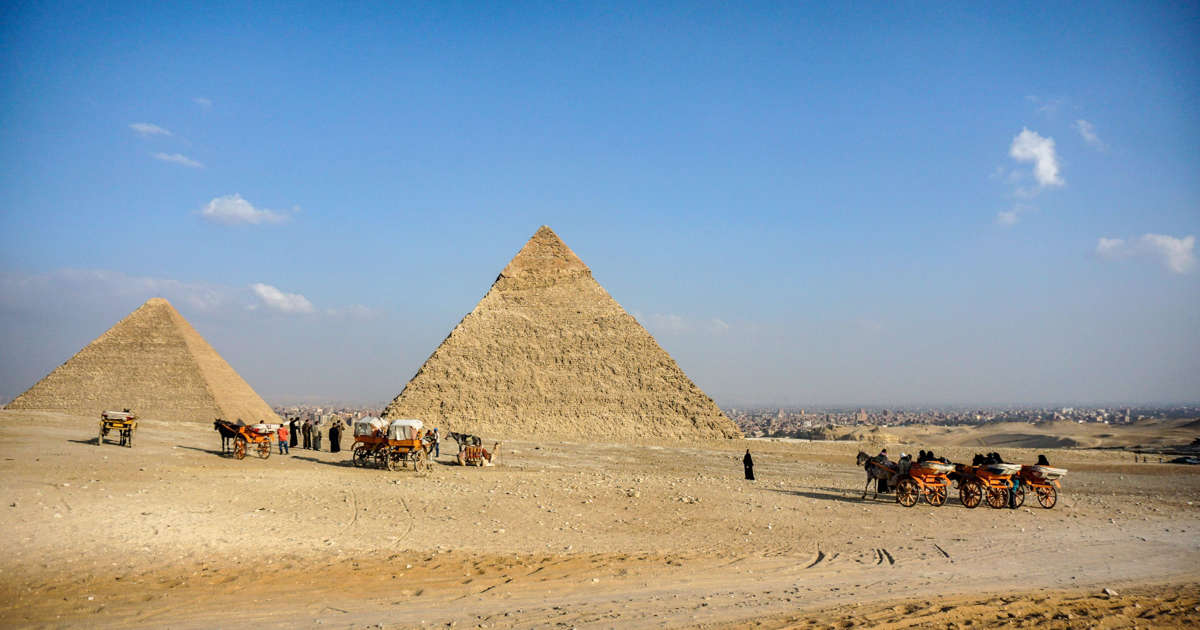 This picture taken on December 21, 2018 shows a view of the pyramids of Khufu or Cheops (L) and Khafre or Chephren (R), at the Giza necropolis on the southwestern outskirts of the Egyptian capital Cairo. (Photo by Mohamed el-Shahed / AFP) (Photo credit should read MOHAMED EL-SHAHED/AFP/Getty Images)
December 28, 2018 - 18:11 GMT
A tomb belonging to the high priest Wahtye, who served during the reign of King Neferirkare (between 2500-2300 BC), has been discovered in the ancient Saqqara necropolis, south of Cairo. (Khaled Desouki/AFP/Getty Images)
December 17, 2018 - 01:31 GMT
An Egyptian archaeologist cleans mummified cats during the demonstration of a new discovery made by an Egyptian archaeological mission through excavation work at an area located on the stony edge of King Userkaf pyramid complex in Saqqara Necropolis, south of the capital Cairo, on November 10, 2018. (Photo by KHALED DESOUKI / AFP) (Photo credit should read KHALED DESOUKI/AFP/Getty Images)
November 11, 2018 - 07:49 GMT
First lady Melania Trump tours the pyramids of Egypt in Cairo on October 6, 2018.
October 10, 2018 - 15:02 GMT
First lady Melania Trump talks to the media as she visits the ancient statue of Sphinx, with the body of a lion and a human head, at the historic Giza Pyramids site near Cairo, Egypt, on Oct. 6, 2018.
October 10, 2018 - 13:17 GMT
Image: Egypt oldest villageThis undated photo released by the Egyptian Ministry of Antiquities, shows one of the oldest villages ever found in the Nile Delta, with remains dating back to before the pharaohs in Tell el-Samara, about 140 kilometers (87 miles) north of Cairo, Egypt.
September 02, 2018 - 20:58 GMT