GAZA city news.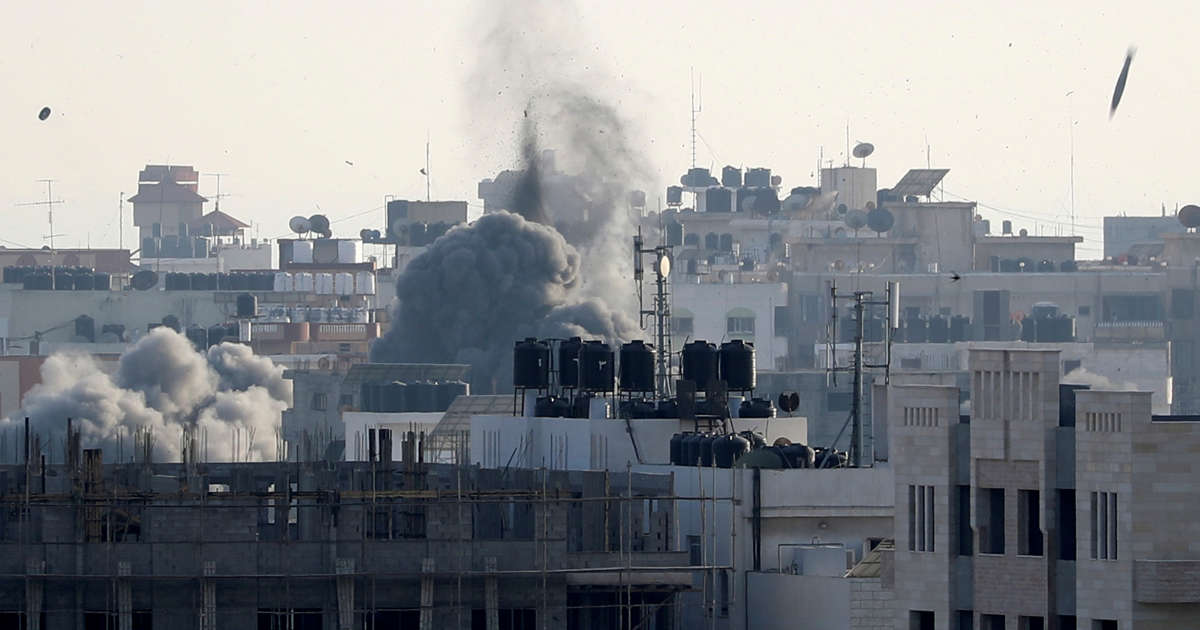 A missile lands as smoke rises during Israeli air strikes in Gaza City May 5, 2019.
May 06, 2019 - 03:03 GMT
The Erez crossing for people (pictured) and the Kerem Shalom crossing for goods reopened Sunday morning, an official told AFP
March 31, 2019 - 12:30 GMT
Israeli soldiers work near their tanks at a gathering area near the Israel-Gaza border, in southern Israel, Tuesday, March 26, 2019. Israeli Prime Minister Benjamin Netanyahu returned home from Washington on Tuesday, heading straight into military consultations after a night of heavy fire as Israeli aircraft bombed Gaza targets and the strip's militants fired rockets into Israel. (AP Photo/Ariel Schalit)
March 27, 2019 - 12:59 GMT
Fire and smoke envelop buildings in Gaza City during reported Israeli strikes on Monday.
March 26, 2019 - 01:29 GMT
Flame and smoke are seen during an Israeli air strike in Gaza City
March 25, 2019 - 21:23 GMT
A light plane sprays pesticides at a hill as it fights a swarm of locusts on March 6, 2013 in the Israeli village of Kmehin in the Negev Desert near the Egyptian border. According the UN Food and Agriculture Organization (FAO) a swarm of tens of millions of locusts has overtaken Egyptian desert land in the past few days and is heading to the Gaza Strip, Israel and Jordan AFP PHOTO/MENAHEM KAHANA (Photo credit should read MENAHEM KAHANA/AFP/Getty Images)
February 22, 2019 - 06:49 GMT
Palestinians gather in front of damaged buildings in Gaza City early on November 13, 2018 following Israeli air strikes
November 13, 2018 - 15:29 GMT
Israel Hits Gaza as Militants Fire 200 Rockets Across Border (1)
November 13, 2018 - 14:08 GMT
Palestinians inspect a military observation post that was hit by an Israeli tank shell east of Khan Younis, southern Gaza Strip, Friday, July 20, 2018. Israel pummeled Hamas targets in Gaza killing four Palestinians on Friday in a series of air strikes after gunmen shot at soldiers near the border, officials said. The Gaza Health Ministry said four Palestinians were killed. The militant Islamic Hamas that rules Gaza said three of the dead were members of the group. (AP Photo/Adel Hana)
July 20, 2018 - 21:27 GMT
Palestinian protestors in Gaza prepare an incendiary kite before trying to fly it over the border fence with Israel on April 20, 2018
July 17, 2018 - 11:25 GMT