GAZA city news.
Protesters burn pictures showing President Trump during a protest against the U.S. Mideast peace plan, at the main road market in Jebaliya refugee camp, Gaza Strip, Jan. 28, 2020.
January 29, 2020 - 13:12 GMT
GAZA CITY, PALESTINE - 2020/01/28: Palestinians chant slogans as they stand next to flaming tyres during the demonstration. Palestinians demonstrate against US President Donald Trump's expected Middle East peace plan proposal. (Photo by Mahmoud Issa/SOPA Images/LightRocket via Getty Images)
January 29, 2020 - 00:08 GMT
Senior Hamas leader Khalil al-Hayya speaks during a protest ahead of the announcement by U.S. President Donald Trump of his long-delayed Mideast peace plan, in Gaza City January 28, 2020. REUTERS/Mohammed Salem
January 28, 2020 - 19:44 GMT
No. 15: West Bank and Gaza
January 07, 2020 - 14:48 GMT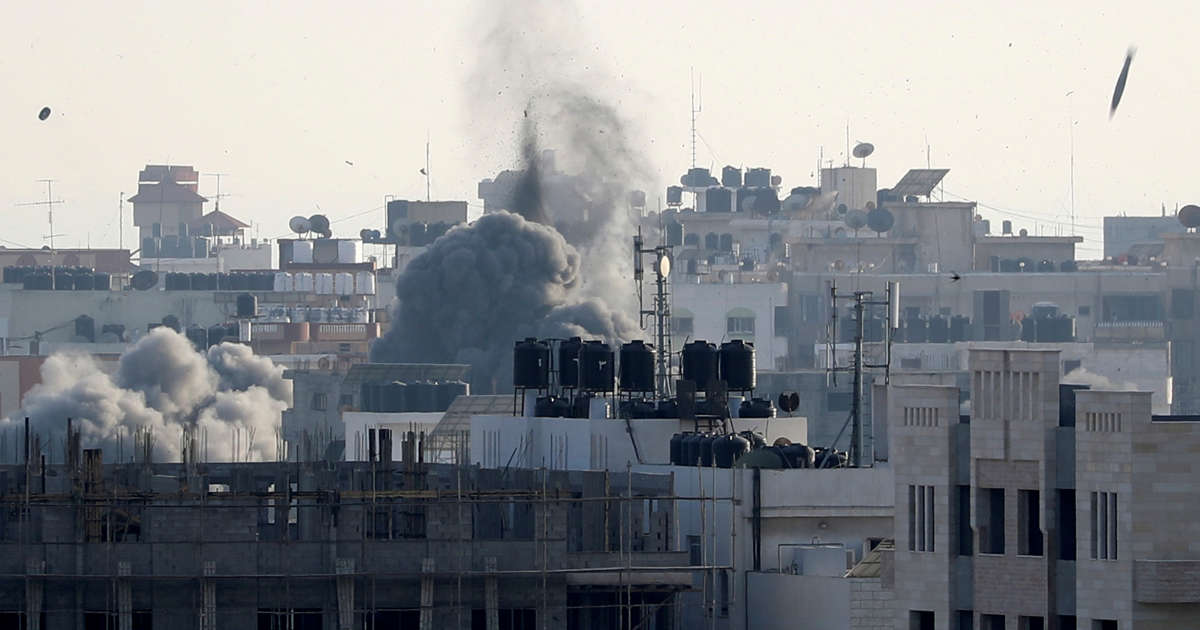 A missile lands as smoke rises during Israeli air strikes in Gaza City May 5, 2019.
May 06, 2019 - 03:03 GMT
The Erez crossing for people (pictured) and the Kerem Shalom crossing for goods reopened Sunday morning, an official told AFP
March 31, 2019 - 12:30 GMT
Israeli soldiers work near their tanks at a gathering area near the Israel-Gaza border, in southern Israel, Tuesday, March 26, 2019. Israeli Prime Minister Benjamin Netanyahu returned home from Washington on Tuesday, heading straight into military consultations after a night of heavy fire as Israeli aircraft bombed Gaza targets and the strip's militants fired rockets into Israel. (AP Photo/Ariel Schalit)
March 27, 2019 - 12:59 GMT
Fire and smoke envelop buildings in Gaza City during reported Israeli strikes on Monday.
March 26, 2019 - 01:29 GMT
Flame and smoke are seen during an Israeli air strike in Gaza City
March 25, 2019 - 21:23 GMT
A light plane sprays pesticides at a hill as it fights a swarm of locusts on March 6, 2013 in the Israeli village of Kmehin in the Negev Desert near the Egyptian border. According the UN Food and Agriculture Organization (FAO) a swarm of tens of millions of locusts has overtaken Egyptian desert land in the past few days and is heading to the Gaza Strip, Israel and Jordan AFP PHOTO/MENAHEM KAHANA (Photo credit should read MENAHEM KAHANA/AFP/Getty Images)
February 22, 2019 - 06:49 GMT