GAZA city news.
Image: Rescue WorkersRescue workers and a member of Palestinian security forces loyal to Hamas, stand while searching for missing or dead militants after Israel blew up a cross-border tunnel, in Khan Younis in the southern Gaza Strip on Nov. 3, 2017.
November 15, 2017 - 21:46 GMT
An Israeli general has warned fighters from the Islamic Jihad movement, shown here at a funeral for comrades killed in an Israeli operation to blow up a tunnel stretching from the Gaza Strip into Israel, against any revenge attack
November 12, 2017 - 11:45 GMT
Palestinian children play in front of a mural of late nationalist leader Yasser Arafat in the Al-Shati refugee camp in Gaza City
November 11, 2017 - 11:30 GMT
Palestinian Authority Takes Over Gaza's Borders From Hamas
November 01, 2017 - 21:43 GMT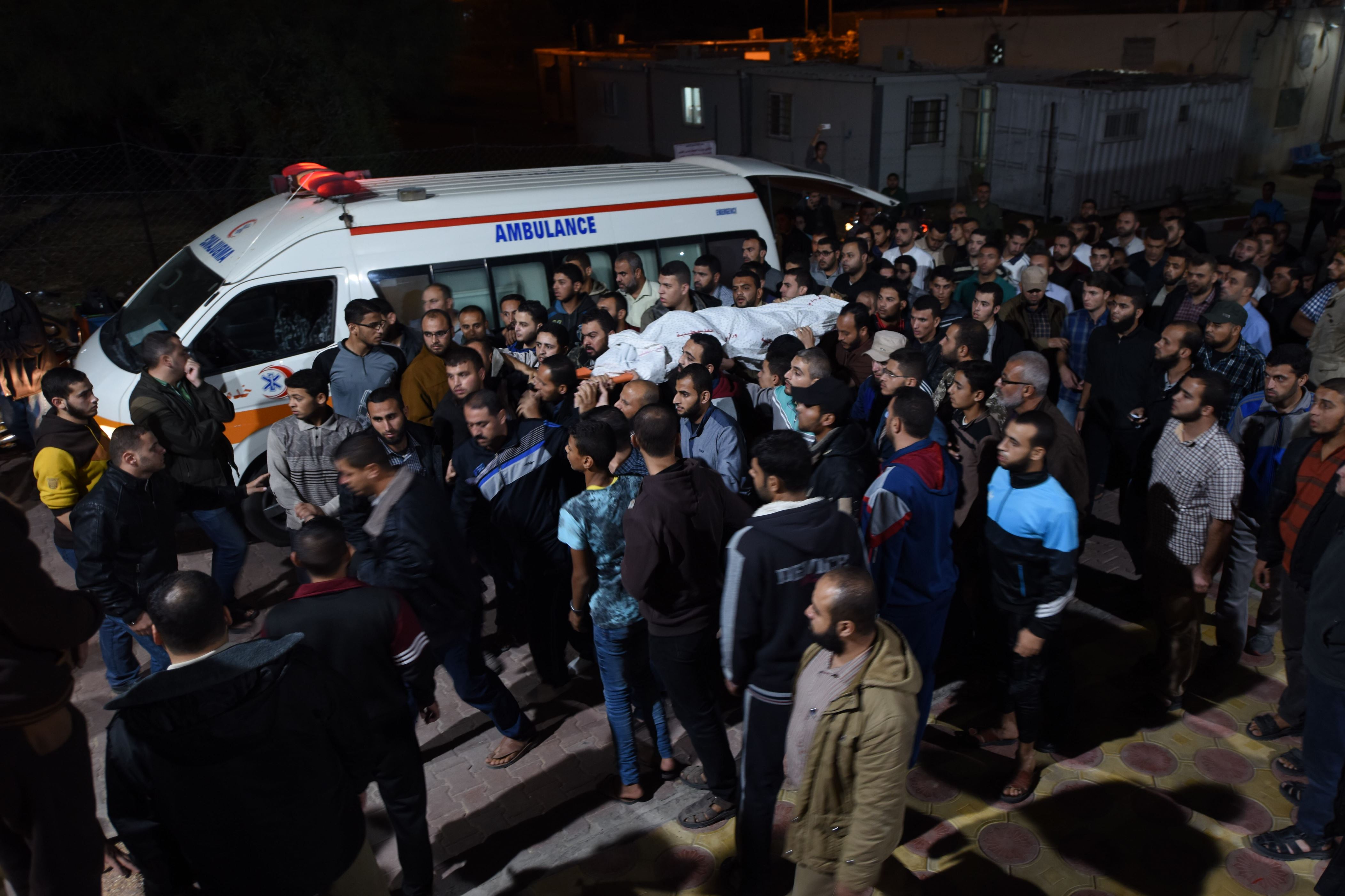 Misbah Shabbir's dead body is being carried to Nasser Hospital in Khan Younis district of Gaza City, Gaza on October 30, 2017. At least six Palestinian fighters were killed Monday after Israel destroyed a cross-border tunnel linking the blockaded Gaza Strip to Israeli territory, the Palestinian Health Ministry has confirmed.
October 30, 2017 - 20:33 GMT
FILE PHOTO: In this photo released by the Israel Defence Forces (IDF), Israeli troops inspect the entrance to a Palestinian smuggling tunnel they discovered December 10, 2005 near Israel's Erez Checkpoint north of the Gaza Strip. The tunnel which was intended by Palestinians to smuggle terrorists into Israel from the Gaza Strip, was the first one exposed since Israel withdrew from the Gaza Strip in August.
October 30, 2017 - 17:29 GMT
A handout picture released on October 27, 2017 by the office of Hamas chief Ismail Haniya shows him (L) visiting Tawfiq Abu Naim (C), director general of the internal security forces, at a hospital in Gaza City after he was wounded in a car bombing
October 27, 2017 - 15:13 GMT
Palestinian conjoined twins lie in an incubator on October 22, 2017 at a hospital in Gaza City
October 22, 2017 - 19:39 GMT
Senior Fatah official Azzam al-Ahmad, center right, and Hamas' representative, Saleh al-Arouri, center left, sign a reconciliation agreement in Cairo, Egypt, Thursday.
October 12, 2017 - 17:17 GMT
Palestinian Fatma Mosabah, 21, takes pictures for social media to give followers a different view of her native Gaza Strip from what much of the world may be used to
October 12, 2017 - 07:40 GMT