MOSUL Iraq city news.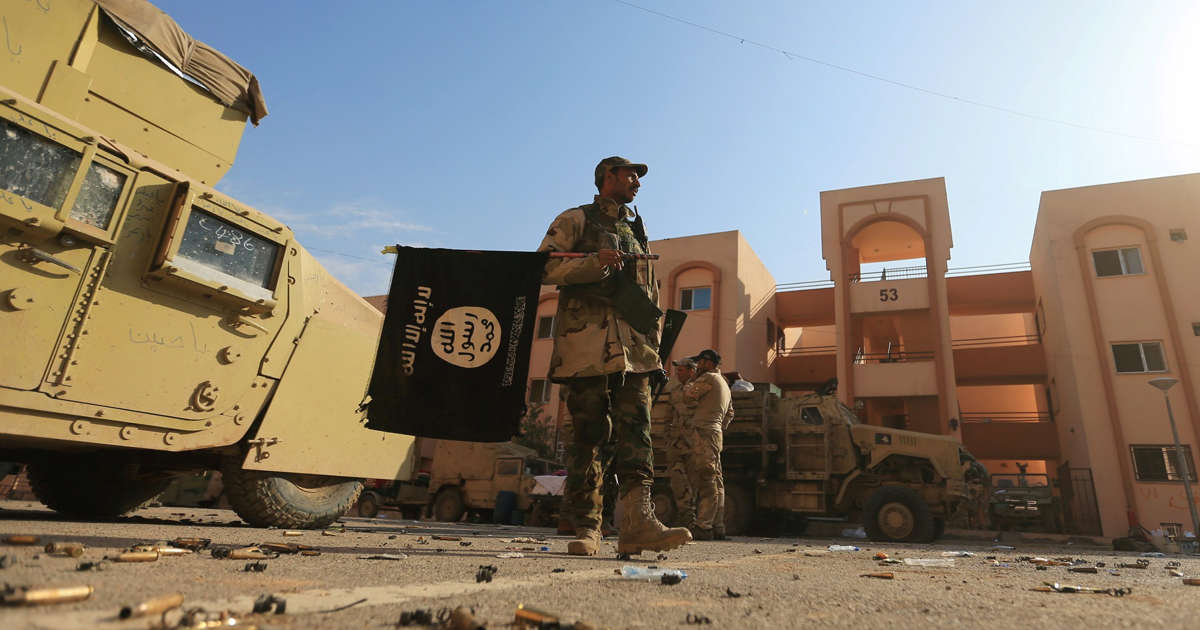 An Iraqi soldier holds an Islamic State flag during a battle with Islamic State militants, north of Mosul, Iraq, January 9, 2017.
February 06, 2019 - 21:22 GMT
Young men taking selfies atop the ruins of Nebi Yunus shrine in east Mosul, Iraq, after it was liberated from the Islamic State in February.
April 23, 2018 - 02:29 GMT
In this July 4 photo, fleeing Iraqi civilians walk past the heavily damaged al-Nuri mosque as Iraqi forces continue their advance against Islamic State militants in the Old City of Mosul, Iraq.
November 02, 2017 - 14:50 GMT
A general view of Hammam Al-Alil camp is seen in south of Mosul, Iraq September 9,2017.
September 11, 2017 - 22:19 GMT
FILE - In this file photo taken Monday, June 23, 2014, fighters from the Islamic State group parade in a commandeered Iraqi security forces armored vehicle on the main road at the northern city of Mosul, Iraq. High-ranking Iraqi security officials said Friday, July 28, 2017 up to 7,000 Islamic State group affiliates remain in Iraq after the fall of Mosul, where the group's leader declared the self-styled caliphate three years ago. (AP Photo, File)
July 28, 2017 - 13:51 GMT
FILE - This file photo made from undated video posted online in July, 2017 shows a man in an Iraqi Army uniform moments before shooting an unarmed man in Mosul, Iraq. Vengeance is fueling a string of extrajudicial killings of Islamic State group militants amid the fall of Mosul. One Iraqi lieutenant says he has been hunting the past three years for the two IS members he believes killed his father, and he describes interrogating one man and then shooting him. A video shows troops throwing IS suspects to their deaths. Rights groups warn that such killings will only fuel recruitment for the next-generation militant group.(AP Photo, File)
July 19, 2017 - 07:25 GMT
In this July 11, 2017 photo, the sun sets behind destroyed buildings in the west side of Mosul, Iraq. The 9-month fight to defeat the Islamic State group in Mosul ended in a crescendo of devastation: bombardment that damaged or destroyed a third of its historic Old City in just three weeks. The cost of uprooting the militants was the destruction of large swaths of Iraqs second largest city, leaving a population that is displaced, exhausted and potentially embittered if there is no reconstruction. (AP Photo/Felipe Dana)
July 14, 2017 - 20:22 GMT
Airstrikes target Islamic State positions on the edge of the Old City a day after Iraq's prime minister declared "total victory" in Mosul, Iraq, Tuesday, July 11, 2017. (AP Photo/Felipe Dana)
July 12, 2017 - 08:24 GMT
A screaming father running down a rubble-strewn street in Mosul carrying his distressed daughter was one of the most powerful Reuters images taken during the Iraqi-led assault to remove Islamic State from its stronghold.
July 11, 2017 - 19:08 GMT
Piles of concrete and metal rubble reach up to the second storey of surrounding buildings in parts of the historic quarter where Islamic State is making its last stand in Mosul.
July 10, 2017 - 16:02 GMT