SEOUL city news.
SEOUL, SOUTH KOREA -- Torch bearers pose with the PyeongChang 2018 Winter Olympics torch during the PyeongChang 2018 Winter Olympic Games torch relay on Jan. 16, 2018, in Seoul, South Korea.
January 17, 2018 - 02:19 GMT
FILE - In this Aug. 10, 2017, file photo, a man watches a television screen showing U.S. President Donald Trump and North Korean leader Kim Jong Un during a news program at the Seoul Train Station in Seoul, South Korea. North Korea's state-run media say U.S. President Donald Trump's tweet about having a bigger nuclear button than Kim Jong Un's is the "spasm of a lunatic." (AP Photo/Ahn Young-joon, File)
January 16, 2018 - 13:54 GMT
Flame Handover Ceremony For Pyeongchang 2018 Olympics
January 15, 2018 - 11:00 GMT
President Moon Jae-in of South Korea, center, met this month at the presidential compound in Seoul with women forced into brothels for Japanese soldiers in World War II.
January 12, 2018 - 22:09 GMT
A man watches a TV broadcasting a news report on a high-level talks between the two Koreas at the truce village of Panmunjom, in Seoul
January 12, 2018 - 08:40 GMT
South Korean President Moon Jae-in answers reporters' question during his New Year news conference at the Presidential Blue House in Seoul on Wednesday.
January 10, 2018 - 21:52 GMT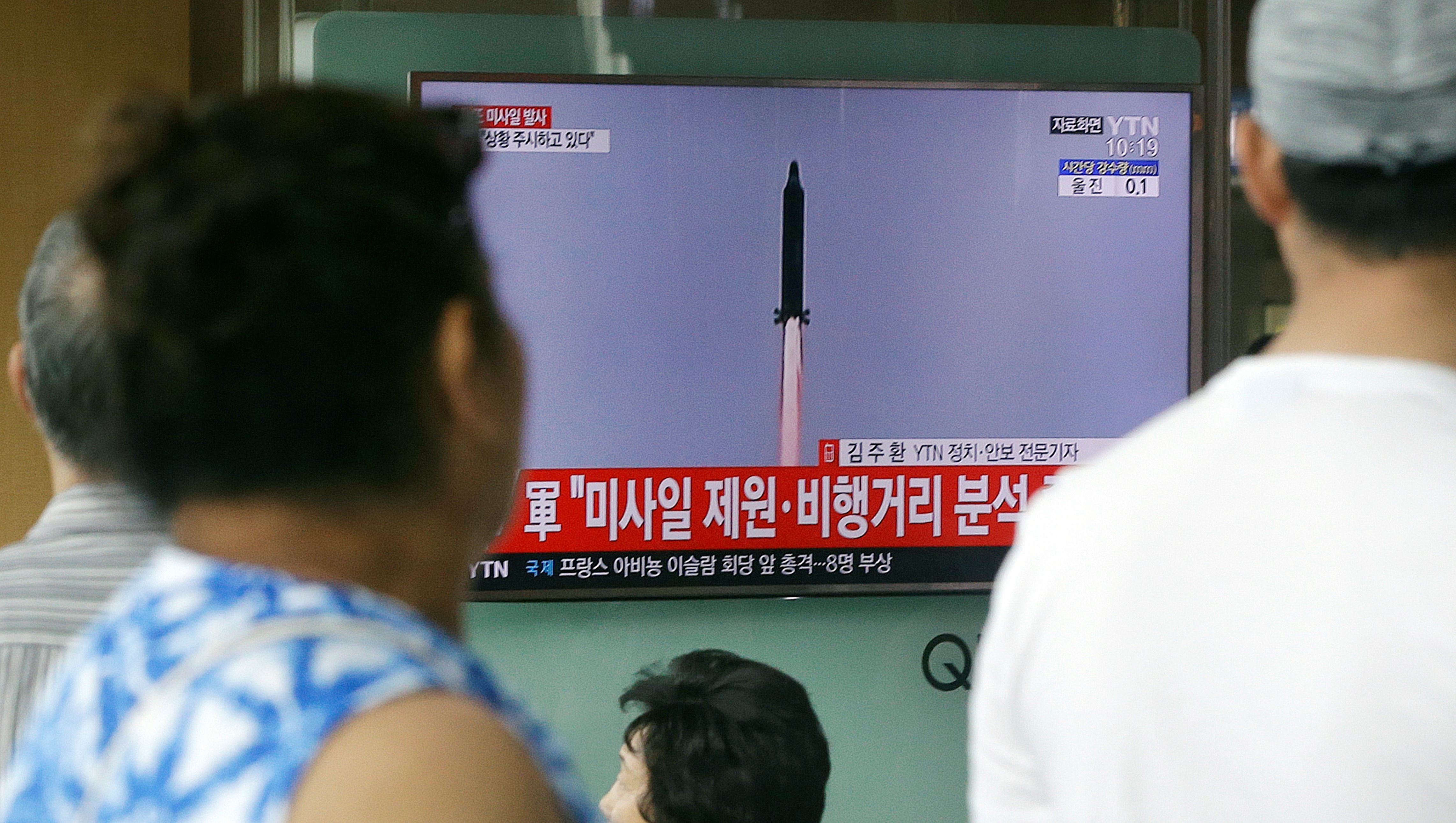 A South Korean army soldier passes by a TV news program showing a file footage of North Korean missiles on a military parade at Seoul Railway Station in Seoul, South Korea, Friday, April 15, 2016.
November 28, 2017 - 14:44 GMT
FILE - In this April 13, 2017 file photo, Hwang Pyong So, left, stands near North Korean leader Kim Jong Un, second from right, and Pak Pong Ju, right, during the opening ceremony of the Ryomyong residential area, a collection of more than a dozen apartment buildings in Pyongyang, North Korea. South Korea's spy agency says North Korea has punished two top military officers during a highly unusual inspection of the military's powerful political bureau. The spy agency told lawmakers the head of the bureau, Hwang Pyong So, and his top deputy were punished. It was unclear whether they were verbally warned, dismissed or banished to a rural area. (AP Photo/Wong Maye-E, File)
November 20, 2017 - 19:36 GMT
People in Seoul, South Korea, in August watch a TV screen showing file footage of a North Korean missile launch.
November 14, 2017 - 22:10 GMT
North Korean defectors shout slogans during a rally against the South Korean government's policy on North Korea, in front of the integrated government building in Seoul, Sept. 22, 2017.
November 13, 2017 - 23:21 GMT