Family, friends gather at Boyle Heights vigil for two boys killed by sheriff's SUV involved in crash
us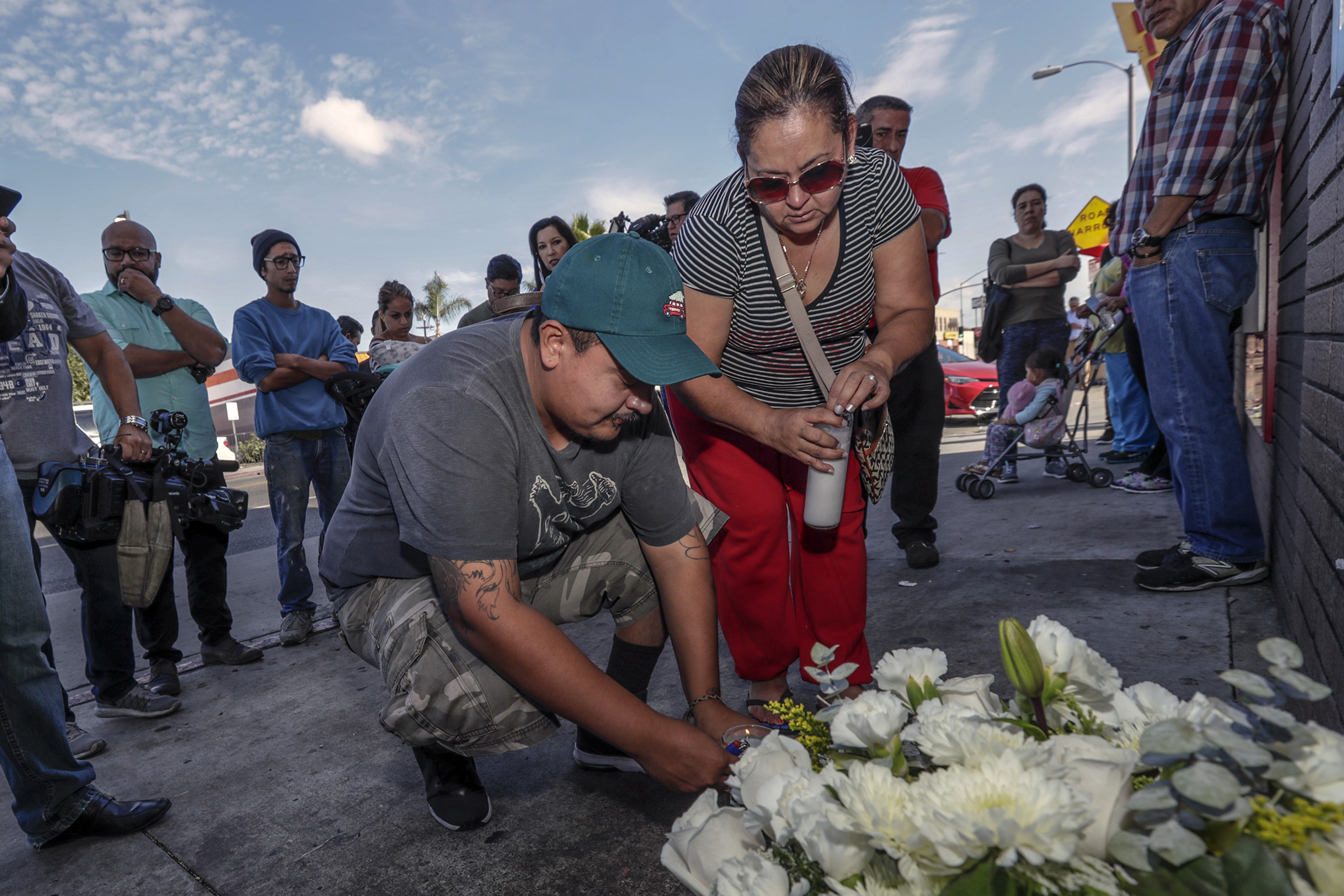 Luis Hernandez, left, and godmother Araceli Cortez of victims mourn the deaths of Marcos and Jose Hernandez at a makeshift memorial on the corner of Indiana Street and Whittier Blvd. in Boyle Heights, Calif. on Nov. 17, 2017. Last Thursday eventing two boys were killed after they were struck by a Los Angeles County Sheriff's Department vehicle that was involved in a crash while responding to a radio call of shots fired.
Dozens of mourners gathered for a prayer vigil in Boyle Heights on Saturday near the site where two young boys were killed and their mother seriously injured when a Los Angeles County sheriff's vehicle involved in a crash careened onto the sidewalk and hit them.
Jose Luis and Marcos Hernandez, 7 and 9, respectively, were walking home from school with their mother when the crash occurred about 7:30 p.m. Thursday, injuring a total of seven people.
On Saturday, people crowded onto the narrow sidewalk, some teary-eyed and clutching their rosaries as Father Parker Sandoval of Resurrection Catholic Church led them in prayer. The group recited the Lord's Prayer and the Hail Mary in unison.
" 'Why' is the question that never seems to go away," Sandoval said, "and I don't have a good answer."
But he told them to trust in God and the promise that life continues after death.
Sandoval preached beside dozens of lighted prayer candles assembled on the sidewalk as part of a makeshift memorial. As the sun went down, the flames flickered in the breeze.
Mourners left behind stuffed bears, bouquets of flowers, a Nerf ball and packages of gummy bears. A large wreath of white flowers on a wooden stand included a sash with the words "Our deepest sympathy." Next to it was a white statue of Jesus with arms outstretched.
Sandoval blessed the vigil and doused it in holy water.
The deadly crash left the community in a mix of shock and anger. Some questioned whether the deputies had acted recklessly before their cruiser and another car crashed.
Relatives said Jose Luis was pronounced dead at the scene. Marcos died at a hospital a short time later.
More than $3,000 had been raised for the boys' memorial and their mother's medical expenses as of Saturday afternoon on the crowdfunding site GoFundMe.
Jessa Ramos, who created the page and identified herself as the the boys' sister, said Jose was passionate about reading books, while Marco enjoyed being creative with technology. Both loved drawing and playing with Legos. She said they were great students and liked to joke about who would be dropped off at school first.
Ramos said her mother was in critical condition with a broken pelvic bone, head injury, fractured neck, fractured leg and broken nose. She said the family hopes to raise enough to have the boys' funeral within two weeks.
"We ask you for your compassion, respect and prayers throughout our grief," she wrote on the website.
Luis Ramos, 51, attended the vigil. He identified himself as the ex-husband of the boys' mother, Maria Veronica Solis, with whom he shares two children. He said Solis is recovering.
When he visited his ex-wife in the hospital the night of the crash, he said she told him to support their children through this time.
"No one expected this to happen," he said. "I don't even know what to do."
Sheriff's deputies were responding to a call of shots fired about 7:17 p.m. at Downey Road and Triggs Street, a little over a mile away from the crash scene, said Nicole Nishida, a spokeswoman for the Sheriff's Department.
Three law enforcement sources told The Times that the vehicle was being driven by a trainee deputy who was riding with her field training officer. The sources spoke on the condition of anonymity because they were not authorized to discuss the case.
The Sheriff's Department SUV collided with another vehicle, and the force of that crash caused the SUV to veer onto the sidewalk, where it struck the mother and children, said Officer Drake Madison, a Los Angeles Police Department spokesman. Madison said it was not clear how the collision occurred, how fast the sheriff's vehicle was traveling or if the vehicle's sirens were blaring.
Julie Valle, 34, was a block away when she saw the sheriff's patrol vehicle speeding south on Indiana Street, no sirens and no light. She said at a news conference Friday that the driver did a "California roll" and then turned on the lights at the intersection before hitting another car.
Valle rushed over and attended the boys' mother, who was moving. Then she saw the boys' mangled bodies.
Valle said she had been thinking about the family ever since. She attended the vigil with her two daughters. Earlier, she had told them some of what happened.
"It is a lesson," she said. "Life is short."
andrea.castillo@latimes.com
By: Los Angeles Times
« us