These Are the Victims of the Thousand Oaks Borderline Bar Shooting in California
us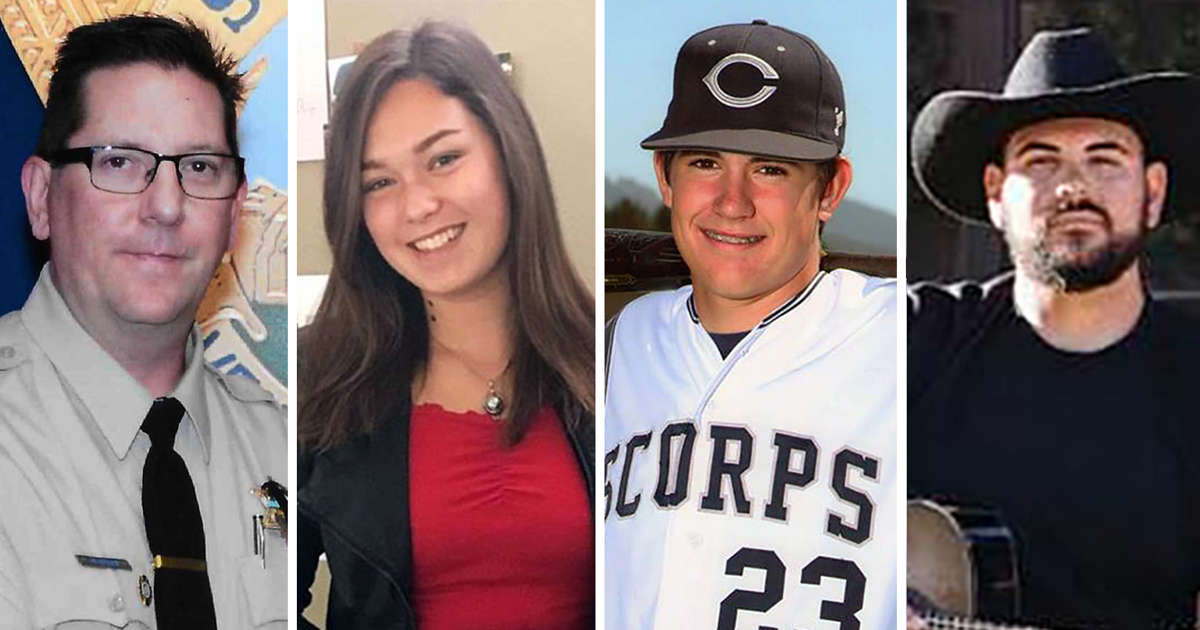 Mourners embrace outside the Thousand Oaks Teen Center, where relatives and friends gathered in the aftermath of a mass shooting on Nov. 8, 2018, in Thousand Oaks, Calif.
At least 12 people were killed when a Marine combat veteran opened fire in a busy Southern California bar late Wednesday night, making Thousand Oaks, Calif. the latest city left grieving in the aftermath of a mass shooting.
The victims include a sheriffs deputy who charged onto the scene, as well as a Navy veteran who survived last years massacre at a Las Vegas country music festival. At least 23 people were also injured, according to the Ventura County Sheriffs Office.
Police believe the gunman, identified as 28-year-old Ian David Long, took his own life after attacking the Borderline Bar & Grill.
To honor the shootings victims, the city of Thousand Oaks hosted a vigil Thursday.
"Our hearts are with all those whose loved ones were stolen from them too soon, by yet another senseless act of gun violence," Calif. Governor-elect Gavin Newsom said.
These are the victims of the Borderline bar shooting:
An undated handout photo made available by Ventura County Sheriff Department of Sgt. Ron Helus.Ron Helus
Sgt. Ron Helus was a 29-year veteran of the Ventura County sheriffs office who was planning to retire next year. When news of the shooting came in, Helus, who was then on the phone with his wife, rushed to the Borderline bar. He arrived within two minutes of the first 911 call.
Helus was shot multiple times while exchanging fire with the gunman, and later died at the hospital.
Today we mourn the loss of Sergeant Ron Helus who gave his life serving the community. Please keep his family and the families of the victims in your thoughts and prayers. pic.twitter.com/EwDsnPRDCs
— Ventura Co. Sheriff (@VENTURASHERIFF) November 8, 2018
Sgt. Eric Buschow described his friend and colleague as a "cops cop."
"The fact that he was the first in the door doesnt surprise me at all," Buschow said, according to the Associated Press. "Hes just one of those guys that wouldnt hesitate in a situation."
On Thursday, thousands of mourners watched a 25-mile procession honoring Helus, who is survived by his wife and 24-year-old son.
Sean Adler Sean Adler, one of the victims of a gunman's rampage at the Borderline Bar in Thousand Oaks, Calif. on Nov. 7, 2018, is seen in an undated photo. | Debra Ross—AP
Adler, 48, was a security guard and former Simi Valley High School wrestling coach who routinely stayed late at the Borderline to make sure patrons got some safe, longtime friend Debbie Allen told AP.
"He was a very, very big personality and had a very, very gorgeous smile," Allen said. "I dont think in all the years Ive known him, and its almost 30, I ever heard him say no to someone."
Adler was also a coffee enthusiast, and had recently opened a coffee shop called Rivalry Roasters in nearby Simi Valley, Calif. according to another friend.
His mother, Gloria Adler, told the Los Angeles Times that her son had once aspired to be a cop. His training with the Los Angeles County Sheriffs Department was waylaid last year by a heart attack.
Adler is survived by his wife and two sons, ages 12 and 17. Vigils in his honor will be held at Rivalry Roasters Thursday night and Friday.
Cody Coffman
View this post on Instagram

A post shared by Jason Coffman (@jason_coffman55) on Jun 9, 2015 at 5:48pm PDT

Cody Coffman, 22, "was on his way to fulfilling his dream" of serving in the U.S. military, according to his father Jason Coffman.

Cody Coffman was a beloved older sibling to three brothers between the ages of 6 and 9 and frequent fishing companion to his father. "Cody was the big brother that my kids need," Jason Coffman said, according to AP.

Jason said he spoke to Cody shortly before he went to the Borderline. "The last thing I said was, Son, I love you."

Read more: First Victims in Thousand Oaks Bar Shooting Identified

Alaina Housley Alaina Housley, among those killed in the shooting at the Borderline Bar in Thousand Oaks, Calif. on Nov. 7, 2018, is seen in a undated photo provided by Adam Housley and Tamera Mowry-Housley. | Adam Housley—AP

Alaina Housley, 18, was a standout student and "a really good kid" who played multiple instruments. She was a freshman at Pepperdine University planning to study law, her family members told AP.

She went to Borderline Wednesday night with her suite-mates, some of whom escaped through a broken window in the chaos, the Los Angeles Times reports. But Housleys Apple Watch and iPhone still showed her location on the dance floor.

Housley was also the niece of actress Tamera Mowry-Housley and her husband, former Fox news correspondent Adam Housley.

"Our hearts are broken. We just learned that our niece Alaina was one of the victims of last nights shooting at the Borderline bar in Thousand Oaks," the couple said in a statement. "Alaina was an incredible young woman with so much life ahead of her and we are devastated that her life was cut short in this manner."

Daniel Manrique, 33

We are heartbroken to confirm that Dan Manrique, Pacific Regional PM and Marine Corps veteran, was one of the victims of the Borderline shooting. We are aware that other members of our Team RWB family were directly impacted by the events. We will provide updates as we learn more. pic.twitter.com/lXVQWVx6NV

— Team RWB (@TeamRWB) November 8, 2018

Dan Manrique was a "hero" dedicated to helping other military veterans readjust to civilian life, according to family members.

Manrique, 33, was deployed to Afghanistan as a Marine Corps. radio operator in 2007, the Washington Post reports. After serving for six years, he returned to California and recently landed a regional management position with a veterans nonprofit called Team Red White & Blue. The eldest of four, Manrique was set to move out of his parents house next week and dreamed of launching his own brewing business.

"He was selfless," his brother Marcos Manrique told the LA Times. "He just wanted to help this country."

Justin Meek Justin Allen Meek, 23, one of the victims of a gunman's rampage at the Borderline Bar in Thousand Oaks, Calif. on Nov. 7, 2018, is seen in this undated photo provided by Channel Islands Social Services. | Channel Islands Social Services—AP

Meek was a choir and a capella singer as well as a Borderline Bar & Grill employee. He lost his life Wednesday while trying to save others, according to California Lutheran University (CLU).

A recent CLU graduate who got his bachelors degree in criminal justice, Meek, 23, "heroically saved lives" Wednesday night, university president Chris Kimball said in a statement.

Meek also worked with Channel Island Social Services helping children with developmental disabilities. "You could tell he really had a heart for what he did," Danielle Gallo, another Channel Island employee, told AP.

Meek was planning on joining the U.S. Coast Guard, according to CLU veterans coordinator Jenn Zimmerman. His sister, Rose Meek, also worked at Borderline. She survived the shooting, according to AP.

Kristina Morisette

Kristina Morissette worked as a cashier at the Borderline bar, according to CBS Los Angeles. She had just returned from a solo trip to Austin, Texas, and gave her mom a souvenir coin purse before heading to her 6 p.m. shift at the bar, the LA Times reports.

Morissettes parents said the 20-year-olds friends were the center of her life. She also liked to hike, draw and do makeup. After saving up, shed recently bought her first car, a 2017 Jeep Renegade.

Heres a photo of Borderline victim Kristina Morisette of Simi Valley, who was working at front desk when gunman walked in and fired. #RIP pic.twitter.com/27PFnK3tTE

— Kyle Jorrey (@KyleBJorrey) November 8, 2018

"We didnt want her life to end, but we dont want her memories now to end, either," Martha Morisette told the Times.

Telemachus Orfanos

A bushy bearded Navy veteran known to friends as "Tel," Orfanos, 27, had already lived through the deadliest mass shooting in modern U.S. history last year. In an emotional interview Thursday, Orfanos mother Susan Schmidt-Orfanos, demanded Congress "pass gun control so no one else has a child that doesnt come home," according to AP.

Schmidt-Orfanos said her son had survived the rampage at the Route 91 Harvest Festival in Las Vegas last year only to be killed Wednesday 10 minutes from home. The shooting in Las Vegas, saw 59 people killed.

"Here are my words: I want gun control," Schmidt-Orfanos said. "I dont want prayers. I dont want thoughts."

Noel Sparks Noel Sparks, 21, among those killed in a shooting at a bar in Thousand Oaks, Calif. on Nov. 7 2018, is seen in an undated photo provided by Jackie Jones. | Jackie Jones—AP

Noel Sparks, 21, was a college student, active churchgoer and "all-around good girl," family and church community members told AP. She was studying art at Moorpark College.

"Were in shock," her aunt Patricia Sparks told AP. Patricia Sparks described her niece as "the kind of girl that if you had friends, youd want them to marry her."

Sparks was a frequent patron at the Borderline bar, where she celebrated 21st birthday in August, AP reports. She also worked at Calvary Community Church in Westlake Village, where she assisted youth programs. "She loved kids. We had a lot of parents show up today to say, She made my child feel important and that they mattered," the churchs Rev. Shawn Thornton said.

By: Time


« us