On the golf course, Japans Abe did a ninja stunt — and Trump didnt even notice
world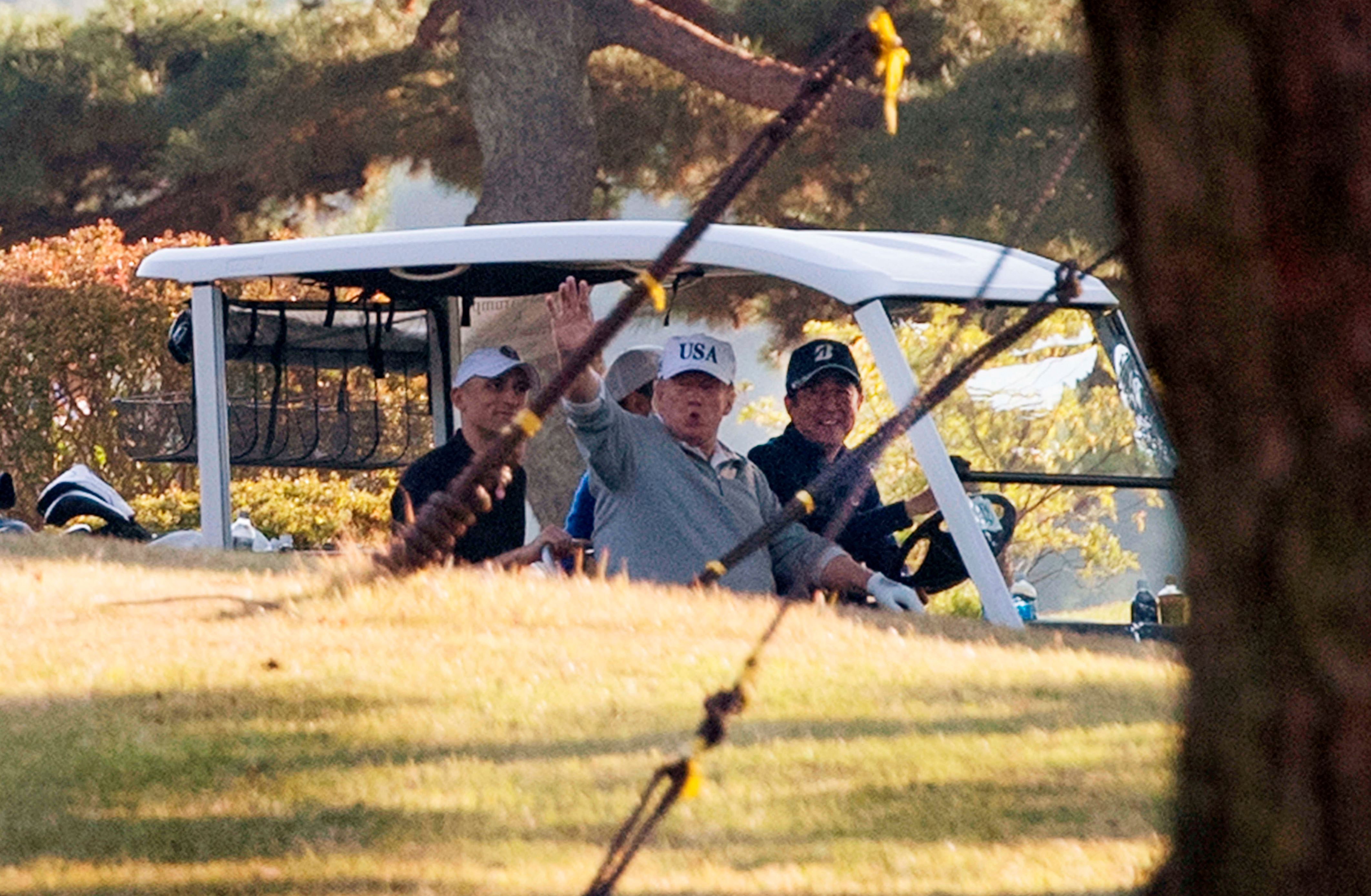 TOKYO — It seemed like President Trumps visit to Japan went without any mishaps.Prime Minister Shinzo Abe feted and flattered his American counterpart with golf games and hamburgers. They both repeatedly talked about the strength of the alliance (and their bromance.)Now, video footage has emerged showing that the trip did not, in fact, pass without any spills. Literally.
Subscribe to the Post Most newsletter: Todays most popular stories on The Washington Post
While they were on the green at the swanky Kasumi Country Club on Sunday, Abe fell into a bunker and performed a ninja-like stunt — all without Trumps knowledge.
US President Donald Trump (C) waves as he sits next to Japan's Prime Minister Shinzo Abe (R) after playing a round of golf at the Kasumigaseki Country Club Golf Course in Kawagoe, Saitama prefecture, outside Tokyo on November 5, 2017. Trump touched down in Japan on November 5, kicking off the first leg of a high-stakes Asia tour set to be dominated by soaring tensions with nuclear-armed North Korea.The Japanese prime minister, dressed in a white sweater, had just hit his ball out of the sand and was running up out of the bunker. But when he got up onto the grass, he apparently lost his balance and rolled backward into the sandy hole. An aide quickly rushed to help the prime minister.But Trump was already walking off and had his back to Abe, and apparently remained oblivious to his golf buddys gymnastics in the bunker behind him.Lucky for the Internet, however, a Japanese television network that had sent helicopters into the sky caught the whole thing on camera.The video quickly went viral in Japan."I saw that PM Abe did a backward roll and fell as he was getting out of a bunker. Its not that I support him and am trying to say favorable things about him, but that was a beautiful way to fall," wrote a Twitter user with the handle @forownway."Security police cant protect him from this LOL," wrote another tweeter, @taro777maru."The truth of Abe-Trump golf diplomacy!" chimed in @oliveyellow.Others saw this as a sign of the lopsided nature of the relationship."Abe was ignored when he fell over backwards. He served Trump a lot of delicious food but in return all he got was being forced to promise to buy more weapons," wrote @iampeppar on Twitter. "Furthermore, Trump ignored all of Abes tweets. Trump doesnt even follow Abe on Twitter. And you call this best friend LOL?"Litera, a tabloid news website, called Trumps lack of reaction to Abes misstep "miserable.""We thought Trump, realizing he fell, would rush to prime minister Abe and say something like: Oh my gosh! Shinzo, are you OK? and give him a hand, but there was nothing of the kind," the website wrote — perhaps unfairly given that Trump genuinely did not seem to see the spill."He didnt even take a look at Abe, dirty with sand all over him, and just walked ahead quickly. Abe, trying not to get behind, didnt even bother to take the sand off and followed Trumps back frantically," the site wrote.Abe, who gave Trump a gold-tipped golf club during their first meeting in November and then played 27 holes with the new president at Mar-a-Lago in February, had reportedly been practicing ahead of their latest game.But Abe has always remained tight-lipped about the score, joking that it was a matter of national security.Still, Nikkan Gendai, a best-selling tabloid, wrote that Abes golf diplomacy was a "major failure" as the pair had very few conversations on the golf course."Abe often ended up playing alone while Trump walked with and chatted to Hideki Matsuyama," Gendai wrote, referring to the pro golfer who played with them.Yuki Oda contributed to this report.
By: The Washington Post
« world