Tensions Between China and the U.S. Run Deeper Than Just Trade
world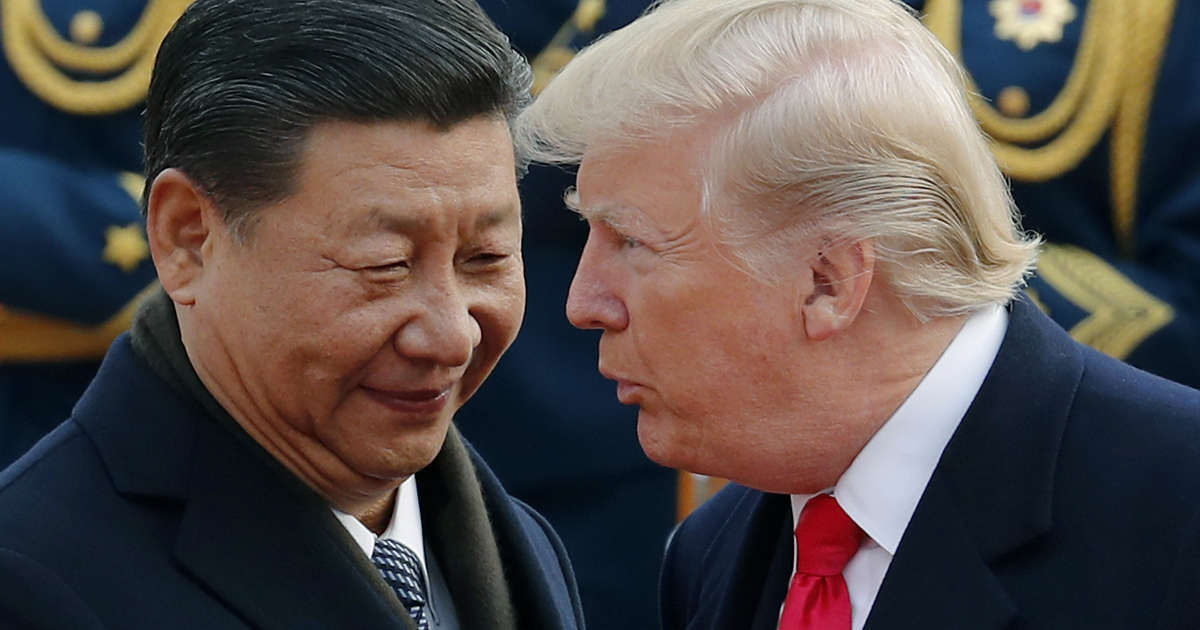 FILE - In this Nov. 9, 2017, file photo, U.S. President Donald Trump, right, chats with Chinese President Xi Jinping during a welcome ceremony at the Great Hall of the People in Beijing. Seeking Chinas help on isolating North Korea through economic sanctions, Trump backed off a threat to label China a currency manipulator. He was off-and-on conciliatory on trade during an extended visit to Asia in November, and China announced it would lift restrictions on foreign investment in its banks and other financial institutions. (AP Photo/Andy Wong, File)(Bloomberg) -- Trade spats have long been a feature of the U.S.-China relationship, but the current escalation in tensions is sparking warnings of something deeper: a over battle who secures the bigger spoils of the global economy.
On one side is Xi Jinpings newly strengthened Communist Party, expanding its influence at home and abroad -- including through a new regulatory regime that will tighten oversight of all aspects of the economy.On the other are American exceptionalists pressing President Donald Trump to impose broad restrictions on China, arguing that the U.S.s historic endorsement of global trade rules left it open to abuse by free riders who failed to reciprocate.The clash augurs a prolonged economic Cold War as each nation tries to shield their domestic interests and protect their share of the world economy from the other. For investors, that may mean getting used to the kind of volatility sparked by the latest trade headlines out of the Trump administration over the past week. Roiling Markets"This is a much bigger game than a short-term impact of some tariffs -- it is a contest over what the world trade and investment regime will look like," said Michael Enright, a professor of management and strategy at the University of Hong Kong who previously taught at Harvard University. "China will not become a market economy in the invisible hand sense anytime soon."While the next immediate trade agenda item is Trumps steel and aluminum tariffs, to be signed Thursday, the bigger deal could be plans for stepped up restrictions on Chinese investments and imports. The move would be a punishment for alleged Chinese theft of intellectual property, people familiar with the matter have said.China on Thursday vowed to retaliate."A trade war is never the right solution," Chinas Foreign Minister Wang Yi told reporters in Beijing. "In a globalized world, it is particularly unhelpful, as it will harm both the initiator and the target countries. In the event of a trade war, China will make a justified and necessary response."Optimists -- fueled by the first year of Trumps administration which was largely free of major trade actions against China -- have hoped that some kind of grand bargain may be in the offing where the U.S. holds fire on punitive actions in return for increased access. Yet the most aggressive elements of the Trump administration havent really signaled that they want a big new trade and investment deal with China; their objective is to alter the thrust of Xis agenda of expanding Chinas global role.
New Playbook
"The trade and security hardliners want to write a new playbook -- they believe China has prospered thanks to a cynical manipulation of global trade rules, and is now using the profits to subsidize huge investments in crucial technologies," Arthur Kroeber, head of research at economic consultancy Gavekal Dragonomics in Beijing, wrote in a recent note.While some in China press the U.S. for a list of demands for a deal, ultimately the Trump administration may not be seeking specific trade or market-access measures. For example, Trump didnt press for U.S. banks to get greater access to China when he visited Beijing in November, China announced the measure after he left.Hard-liners instead are seeking "to either get China to dismantle its industrial-policy edifice and conduct its economy more along Western lines, or failing that, ensure the U.S. defeats China in the race for technological supremacy," Kroeber said. The context is that among Xis priorities is reducing reliance on foreign technology -- including a push for China to achieve a leadership position in semiconductor design and manufacturing.As to what such a war might mean in practical terms, analysts are starting to map out scenarios. UBS AG sees the biggest vulnerability on Chinas side in mobile-phone, computer-equipment and apparel makers that export to America. From the U.S. vantage point, UBS strategists led by Keith Parker ran the numbers on S&P 500 Index members with the most revenue exposure to China as a percent of the total. Here are the top five:Skyworks Solutions Inc., a Massachusetts maker of semiconductorsQualcomm Inc., a San Diego manufacturer of chips for mobile phonesQorvo Inc., a North Carolina firm that makes wireless-technology chipsBroadcom Ltd., a Singapore-based chip-maker planning to move headquarters to the U.S. as it tries to buy Qualcomm Micron Technology Inc., an Idaho memory-chip companyOne irony over objections about Chinas state-driven model is that Xi does want an expanded role for markets. The Communist Party leadership last month called for "adamantly" removing restrictions that keep the market from playing a decisive role in the economy. And Xis aide Liu He, who has promised to surprise the world with reforms, is set for elevation soon to a top job at the annual gathering of the National Peoples Congress.Read here how Xi plans a sweeping overhaul to give the party even greater sway.To contact the reporters on this story: Enda Curran in Hong Kong at ecurran8@bloomberg.net, Christopher Anstey in Tokyo at canstey@bloomberg.net. To contact the editors responsible for this story: Malcolm Scott at mscott23@bloomberg.net, Christopher Anstey at canstey@bloomberg.net. ©2018 Bloomberg L.P.
By: Bloomberg
« world